Our expertise & commitments
Dalloz Stones & Rough is synonymous to 100 years of experience and a unique know-how. But what would a family business be without the men and women that shape it? Each craft has its expert who passes on their knowledge and skills to the new generation.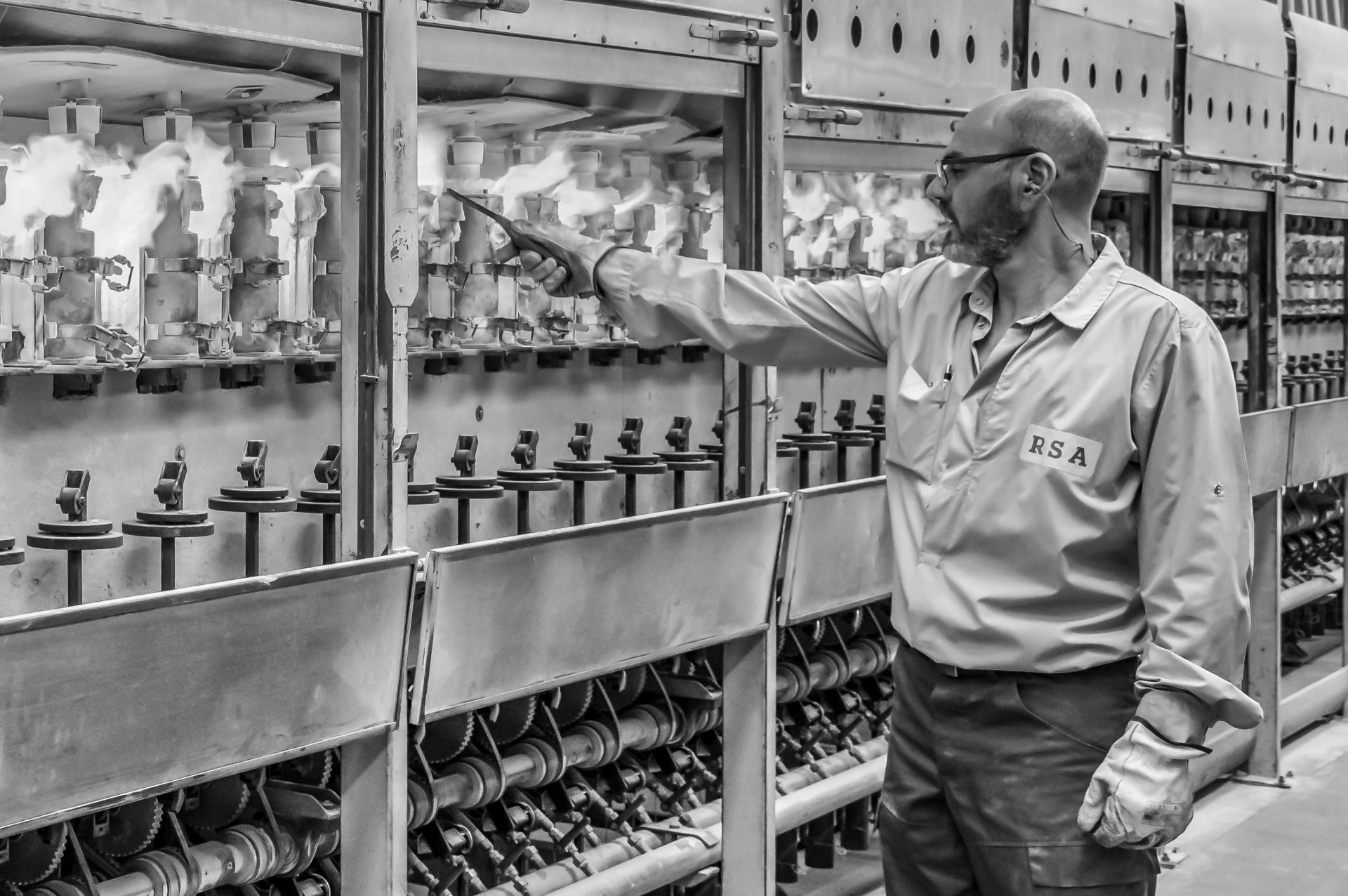 Martial, Made in France rough material creation Expert
Arrived at RSA 10 years ago, Martial works towards giving birth to crystals which formulation is strictly identical to those of natural stones. Crystal growth of pure materials requires special attention; an unbelievable quantity of factors is to be taken into consideration and only a shrewd eye, experience and know-how make it possible to produce rough materials of impeccable quality.
"If the outcome of it sometimes is kind of magic, work necessary to achieve it requires a lot of patience and efforts! It won't happen by itself and I always have adjustments to make, always must be prepared for any eventuality. This is what I like in this job: deal with the unexpected and have the knack of bouncing back."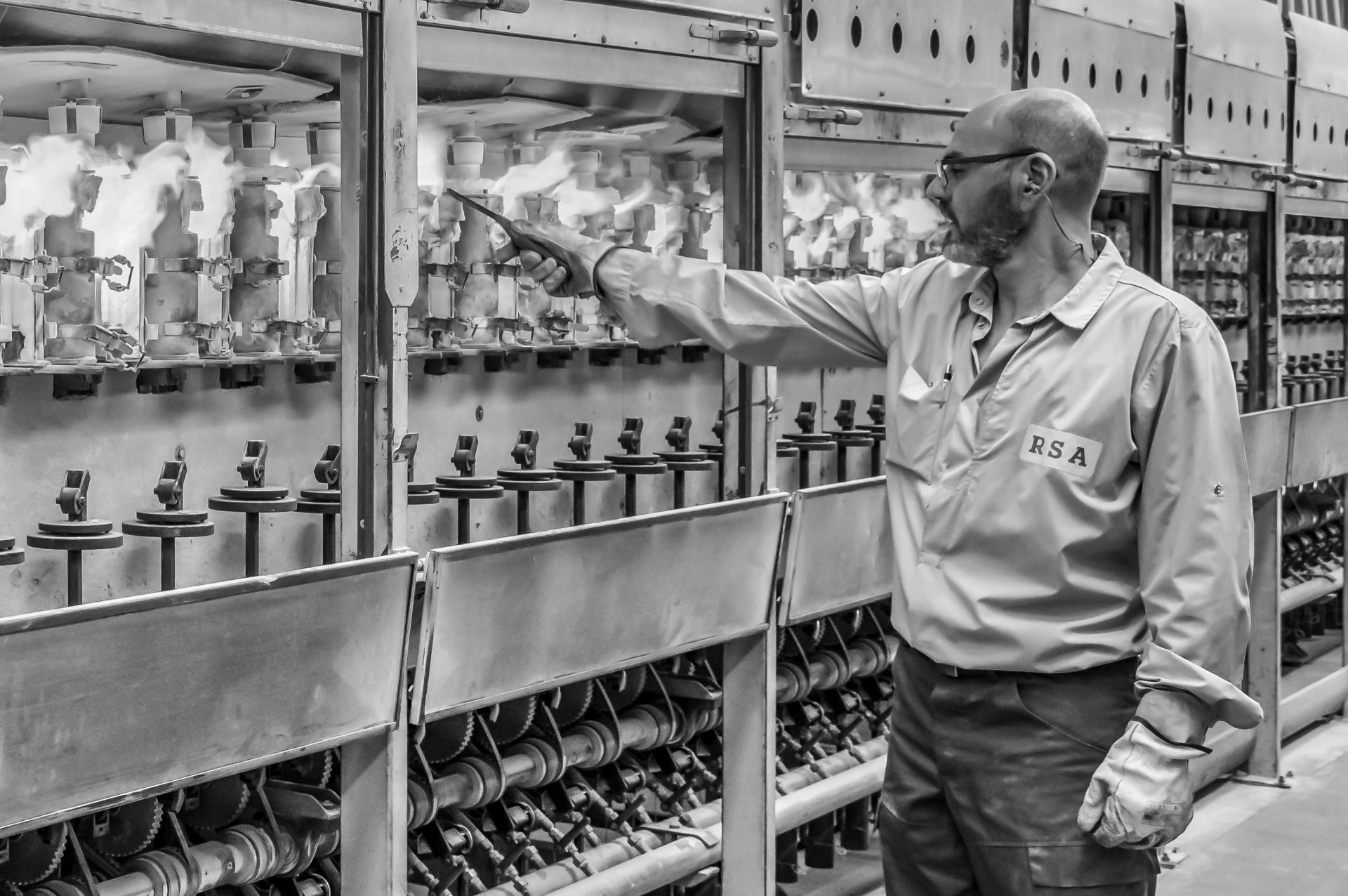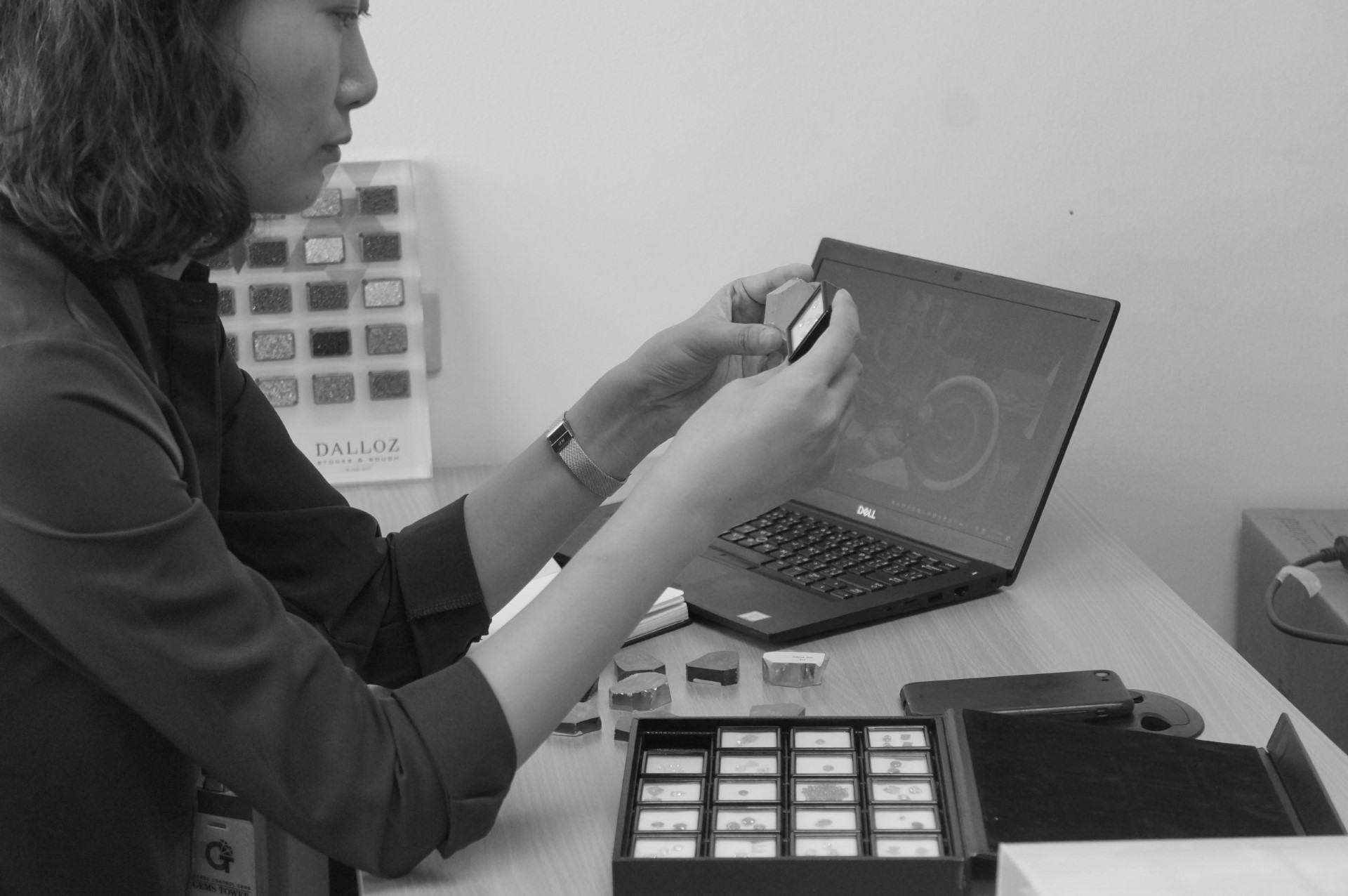 Jenny, Purchasing Expert
Jenny is a graduated gemmologist with over 10 years of experience in purchases and project management within multinational companies.
She joined Dalloz group 2 years ago and commingles her passion for gemstones with a win-win supplier relationship management. She is fluent in 4 languages and 100% devoted to the sales team demands while being available on four different time zones…
"Dalloz is a very friendly and pleasant place to work. All the people there can exchange ideas freely and communication between sales and supply departments is smooth. In the Group, I really feel I am making
best use of my skills, both on the gemstone purchasing side and the supplier relationship management
side."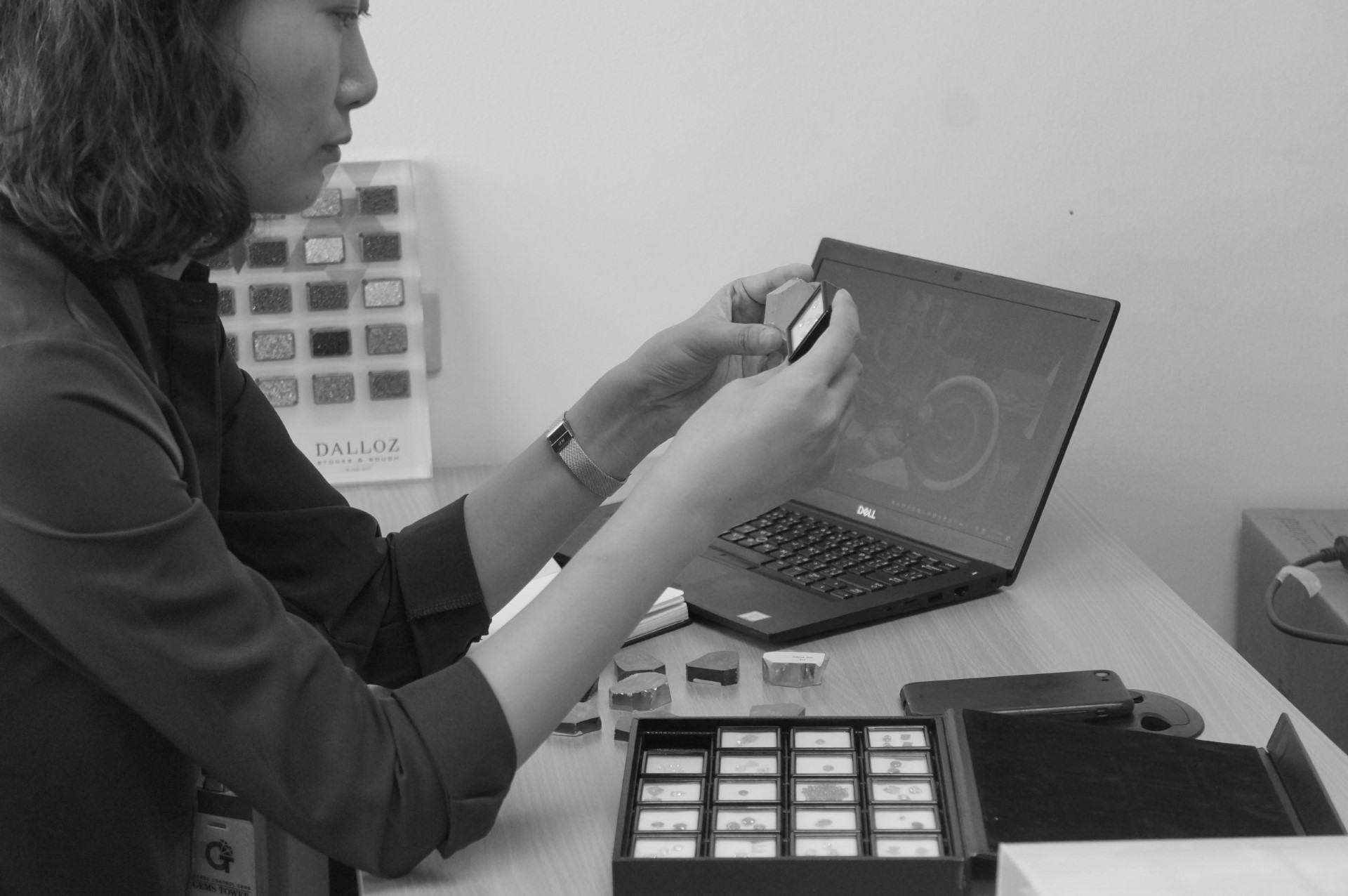 Stéphane, Development Expert
He has been in the Group for 13 years now, after having worked as a project engineer in the industrial sector. Stéphane is the man behind many processes for the watchmaking activity.
He is and has been for quite a few years now, employing his talents at the lapidary activity (the gemstone area). He is today managing the production of genuine gemstones for the luxury sector.
"I love taking up new challenges. In this high-end sphere, you ought to be clever, be curious and be a creative force. A gemstone is the best ally we have, but this is also the most challenging one! You may spend hours on just one of them, so you'd better be patient and autonomous! "
Freddy, Lapidary Expert
Freddy entered Dalloz company as a lapidary once his vocational baccalaureate earned. He was hence instructed by senior lapidaries living in the village, who delivered him their ancestral know-how in the art of bringing the best out of a gemstone, to make it truly exceptional and unveil its
marvellous radiance and brilliancy, regardless of its nature.
Over the years spent at Dalloz, Freddy worked on sapphires and rubies. He still does today and dedicates all his expertise to demands from prestigious luxury French Maisons.
"I like the idea of perpetuating the heritage of ancient lapidaries, help it go through centuries and create items that will come brightening renowned collections for future generations."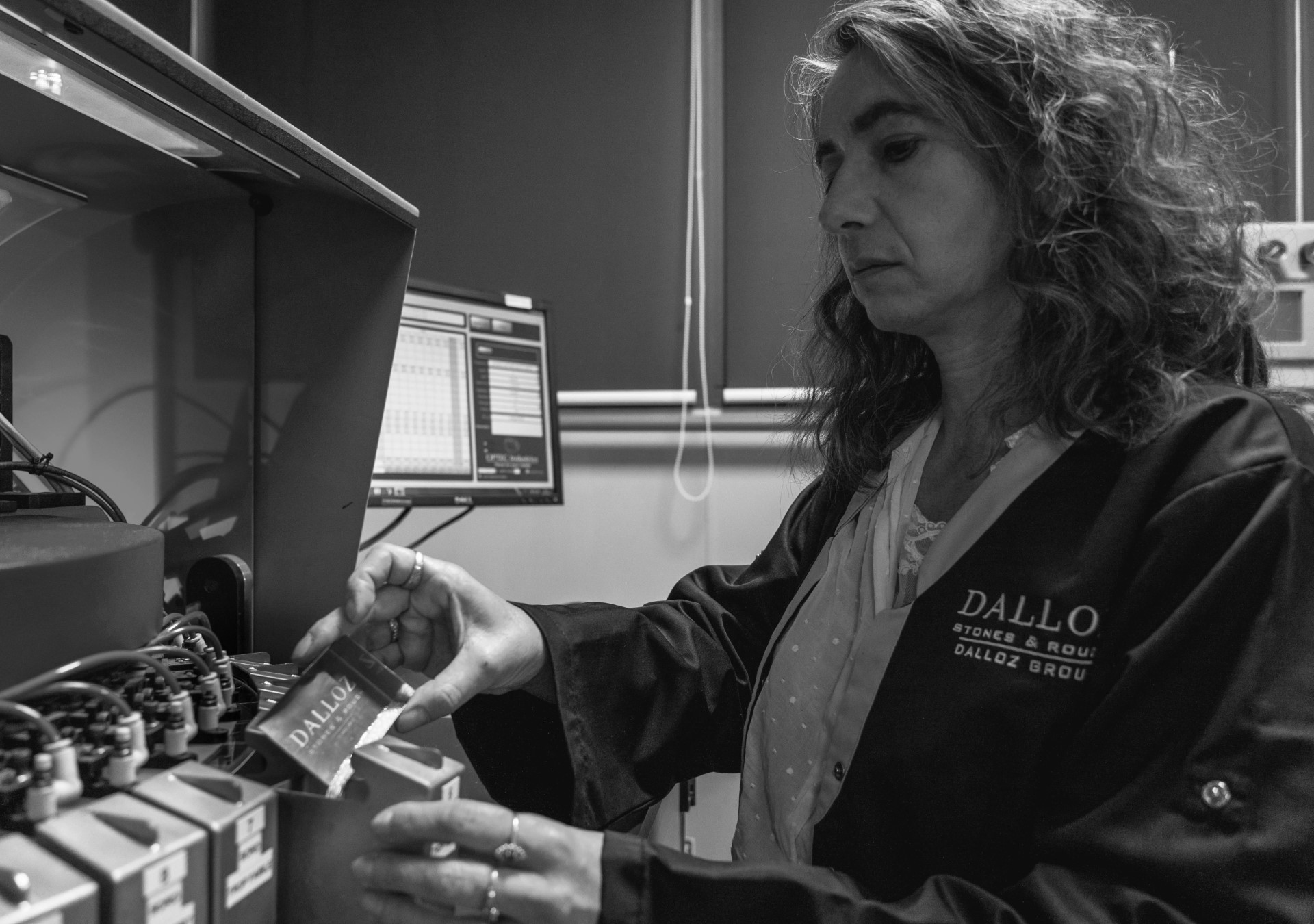 Murielle, Quality Expert
Murielle joined the group 25 years ago and was firstly trained to wax casting and jewel setting techniques.
Armed with those skills, she now applies her talents to the benefit of the synthetic stone quality department. She displays rigor in complying to quality procedures and deftly handles control equipment to underpin her analyses. She is a real bundle of energy for whom "customers can't wait."
"I love the product that I am inspecting every day and can't get tired of it."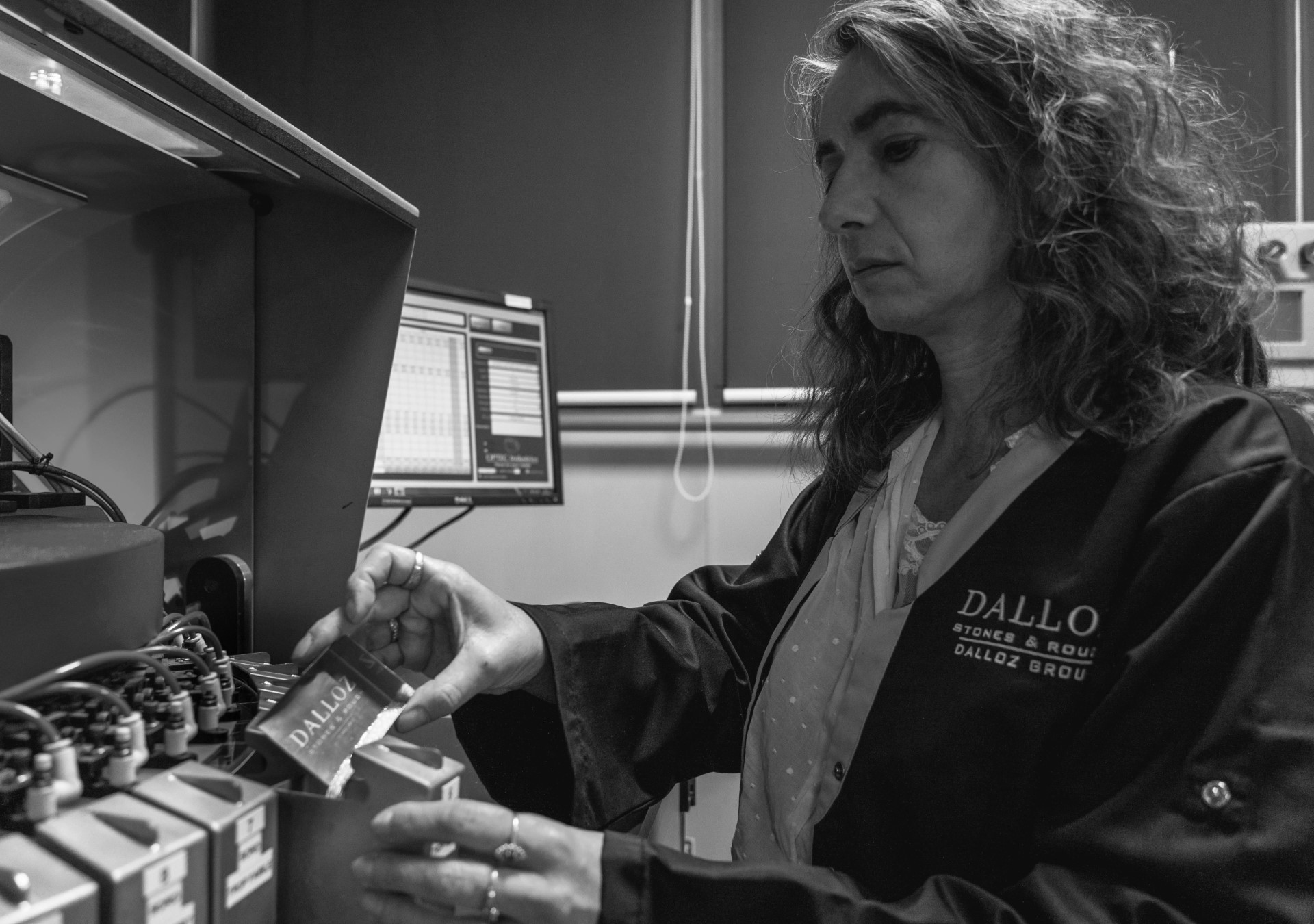 Laurence, Sales Expert
Laurence arrived at Dalloz more than 20 years ago! Globetrotter and keen on challenges, she has her heart set on evolving in an international environment, nurtured of so many different cultures.
At Dalloz, she found herself working with passionate clients and partners, in a considerate, family-ruled business. She is deeply engaged in the jewellery exportation trade which is so thrilling to her.
"Working in cooperation with my fellow expert workmates, reinventing myself constantly to meet our
clients' needs and seeing Dalloz brand expanding throughout the world: here is what fuels me every
single day."
Our leading-edge
technologies & certifications
The company is investing on a regular basis in leading-edge technologies so that our stones meet our customers' technical requirements.
The latest audit in our stone-cutting factory substantiates our compliance to SMETA international standards on 4 mainstays:
Labour Standards / Health & Safety Environment / Business Ethics
Our REACH certified innovation department vouches for the absence of Chromium 6 in all our ruby lines created in our French production unit.
Dalloz Stones & Rough commitments
Only stones that are purchased from us directly or from our official distributors are "Dalloz Quality" certified.
To get the official distributors list please contact us.
An innovation & trends laboratory
France is renowned all over the world to be creators' motherland. Dalloz is engaged in permanent discussion with major Maisons and together we compose tomorrow's fashion in ever innovative designs and materials.
Based on this upstream work, our designer teams create a trend book that will help all jewel manufacturers know about and draw inspiration from trendy colours and shapes.
Are you interested in discovering trends thanks to which you may imagine and offer your customers unique, modern, and avantgarde creations?
Dalloz Stones are synonymous to
A wide range of colours and shapes at the right price
Stones that are specifically enhanced for large-scale production of jewels allowing,
upon casting and setting, for:
- Reducing breakages
- Getting steady-colour stones
Stones that radiate utmost brilliancy thanks to:
- Harmonious and balanced proportions
- Perfect polishing
Innovative stones, exclusive fancy shapes
Stones that are procured through ethical, sustainable, and eco-responsible processes.
Dalloz Services are synonymous to

Significant stocks
available on plenty of products

Customer service
efficient and at your disposal